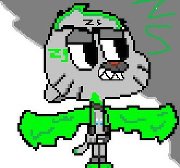 He is a Minor Charater (may become major soon) to my episodes (i love penny)
Friends
Penny (love interest)
Mandy (love interest in the new crush and the age)
Enemies
Tina
Steve Small (Mr. Small)
Interest
Videogames
Being on a Computer all day
Watching TV
Appearance
Green wings with sharp teeth and green shoes. Has a bit green all over his body. He is also a cat like Gumball.
More facts
He has fire powers, This is useful at night time, as its dark outside, so he uses them to light up the surrounding darkness around him.
He can aslo fly, but he never does, because there's nothing to fly over.
(However, this flying ablity is belived to be false according to Gumball and Penny at one point in "The Girlfriend "
Gallery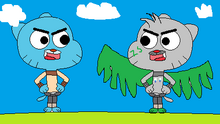 Ad blocker interference detected!
Wikia is a free-to-use site that makes money from advertising. We have a modified experience for viewers using ad blockers

Wikia is not accessible if you've made further modifications. Remove the custom ad blocker rule(s) and the page will load as expected.