Personality
Tyson is Gumball's evil doppleganger. His family despises Gumball's Family. Thus making him, The main antagonast for the Two-Part Special, The Heart. He is known as Neon Gumball by Nicole.
Story
In The Heart Part 1, Gumball and his family go camping. The Jefforsons go camping in the same park and Gumball and Darwin quickly befriend Tyson and Fishhead. A little while later in the episode, Gumball, Darwin, Tyson, and Fishead went to the mountains to find food when both families where stuck at the campsite. Then, the 4 kids got lost in the mountains and Tyson thought is was all Gumball and Darwin's fault.
Trivia
Tyson, Fishead, and Lily are like Gumball, Darwin, and Anais.
Tyson and his family can turn into a mutant, and explode when defeated.
In The New School, Tyson falls in love with Penny, and Gumball starts a fight.
Tyson's family has super powers.
Tyson is from Eromle, wich is Elmore backwards.
Tyson is the exact opposite of Gumball.
Gallery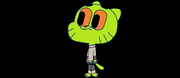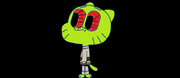 Ad blocker interference detected!
Wikia is a free-to-use site that makes money from advertising. We have a modified experience for viewers using ad blockers

Wikia is not accessible if you've made further modifications. Remove the custom ad blocker rule(s) and the page will load as expected.