Plot:
This is the 4th episode of the Gumball horror series.
Gumball and Darwin were walking until Gumball scratched him. Darwin questions why Gumball scratched him but Gumball scratches him again then runs away. Darwin runs in the other direction. Once he`s home, Darwin goes to the shed and finds a saw and carved into the saw it reads Gumball. Darwin throws the saw away. The Next morning Darwin couldn`t find Anais, and made Darwin worried. Gumball was sitting at the table with his claws out. Gumball had white all over his face. Darwin stayed away from Gumball as much as possible. Gumball got in detention for scratching Penny. Darwin was relieved that Gumball was in detention. He found Anais in the backyard playing with her dolls. Darwin questions her why he didn`t see here yesterday. Anais said she was sick. She questions Darwin where Gumball was. Darwin said he was in detention. Anais said he should be because he killed Larry!
Characters:
Major:
Darwin
SAW Gumball
Supporting:
Anais
Minor:
Gumball
Penny
Miss Simian
Larry
Transcript:
~Walking Home from School~
Gumball: School was BORING!
Darwin: Today was AWESOME!
Gumball: (Scratches Darwin) IT WAS TERRIBLE!
Darwin: OW! DUDE! why did you do that?!
SAW Gumball: (Scratched Darwin the Runs Away)
Darwin: (Starts to cry the Runs Home)
Darwin: (Runs to Shed) What? A SAW?!
~Home~
Darwin: ANAIS!
Darwin: Um, Sis?
Darwin: (Walks Downstairs)
SAW Gumball: (Mumbles) Darwin, come out!
Darwin: He`s waiting for me!
~School~
Miss Simian: MATH TEST! GET YOU PENCILS READY! MATH TEST!
Darwin and Penny: Ready!
Miss Simian: Well, I guess since you two are always the first one ready you don`t have to TAKE the Math Test!
Penny and Darwin High-Five
SAW Gumball: (Scratched Penny) Doofus!
Penny: OW! GUMBALL!
Miss Simian: GUMBALL! 5 HOURS DETENTION!
Darwin: C`mon Penny, I`ll take you to the Nurses Office.
Penny: Thanks Darwin. (The She Kisses Darwin)
Darwin Blushes
~Home~
Darwin: There you are, Anais!
Anais: Oh, hey Bro!
Darwin: where were you yesterday?
Anais: I was sick.
Darwin: Oh.
Anais: Where is Gumball?
Darwin: Detention.
Anais: Well, HE SHOULD BE!
Anais: HE KILLED LARRY!
Darwin: GASP!
Gallery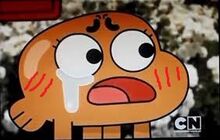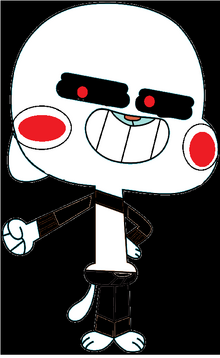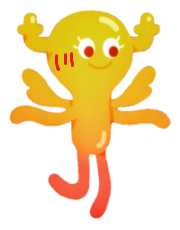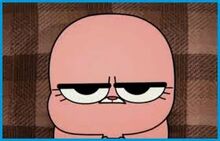 Trivia
Clips from The Shivers was re-used.
Goofs/Errors
Penny`s scratch is gone when Darwin is walking her to the Nurses Office.
Ad blocker interference detected!
Wikia is a free-to-use site that makes money from advertising. We have a modified experience for viewers using ad blockers

Wikia is not accessible if you've made further modifications. Remove the custom ad blocker rule(s) and the page will load as expected.