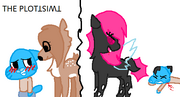 The Plottwist is a 30 Minute Special.
Synopsis
Penny and Kani find something suspicous about the new girl.
Plot
One day in Elmore Junior High, Gumball and Darwin were sitting in class. "Did you hear?" Darwin whispered to Gumball. "About what?" Gumball asked back. "There's a new girl." Darwin replied. "Dude, we've talked about this. Kani has been here for over two months no-" "No, not her. There's another." "Well who is she?" "I don't know, but I've heard she's pretty." At this point Kani was easdropping their conversation, she wanted to make sure that Gumball wasn't thinking about going out with this new girl. Gumball and Darwin find out that the new girl is named Lilly. Lilly has a crush on Gumball, not knowing that him and Penny are dating. At recess, Lilly is seen around Gumball a lot. Penny feels toyed with, so she asks Gumball why Lilly is seen around Gumball a lot. Gumball tells Lilly that whatever they had is over, which pleases Penny. That night, Gumball was dreaming of Lilly telling everyone that Gumball is a stupid jerk. The viewers see Gumball sleep walking to Lilly's house, turning around when he dreams of Lilly instead saying that Gumball is a smart, reasonable, and cute young one. The next morning, Gumball awakes to see a weird pony-looking thing. "Remember me?" she asks, sounding like Lilly. "Lilly?" Gumball asks, still trying to sleep. "Yes, Gumball. I am here to destroy," Lilly says, sounding mad. Kani runs into Gumball's room, scolding Lilly for trying to hurt Gumball. They are all friends. Time skips to when Gumball and Penny are 17. Gumball preposes to Penny, and she says, "YES! This is as good as the time i found out you and Lilly weren't dating!" The viewers see the end credits.
Major Characters
Trivia
Lilly's deer form resembles a deer from the popular web game Animal Jam.