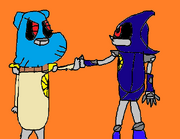 The metal is a two-part episode, released in United States on April 30 and in Latin America on April 5, here makes his second appearance Metal Gumball and the debut of Metal Sonic.
Section heading
Write the first section of your page here.
Important Facts
Metal Sonic debut
Its the second battle of Metal Gumball and Gumball
It is the first two-part episode
Characters
Gumball
Darwin ( Mr.D)
Anais
Penny
Metal Gumball
Metal Sonic (Debut)
Zack Silvia
Bobert ( Cameo)
Carmen (Cameo)
Plot
Since the defeat of Metal Gumball, he has decided to take revenge, so, he planned to build a super machine, but was wrong and instead of being stronger, brought another robot, Metal Sonic Sonic dimension, then we see that Gumball and Zack are again, arguing about Penny, Darwin, while eating a pizza hears a noise, is about to see, but it is not, then, Zack question is, but apparently says nothing, then go to investigate and find something.

Metal Sonic and Metal Gumball the Trap with Anais, they try to leave but can not, Penny has an idea in which all follow the instructions, but when leaving, Metal Gumball Darwin makes Mr.D, starts the fight, Metal Gumball sprayer lightning spear gumball, which enhances Metal Sonic, but defends Zack, Zack throws a green burst Metal Sonic, but half of Power, Mr. D throws a dark orb and blast goes straight to Penny, Anais tries to use an electric shock, but Mr.D catches it and returns it, they could not fight if there Seguia Mr.D, so, hurt, saw that opened a portal .......... .................
To be continued
Curiositys
Portal may be able to leave sonic
Darwin returns to Mr.D
It is revealed that Zack can use green power waves
Ad blocker interference detected!
Wikia is a free-to-use site that makes money from advertising. We have a modified experience for viewers using ad blockers

Wikia is not accessible if you've made further modifications. Remove the custom ad blocker rule(s) and the page will load as expected.