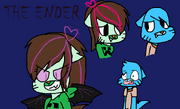 The Ender is a TAWOG movie that comes out after the series ended.
Synopsis
On Gumball's 13th birthday, Kani gets bitten by a mysterious creature, wich makes something VERY bad happen...
Plot
TBA
Major Characters
Minor Characters
Darwin
Nichole
Anais
Richard
Carrie
Trivia
In one scene, Gumball asks Kani if she wants go out and build a snowman, in the rhythm of the song from Frozen.
Enderlox, a popular Minecraft fan-character makes a cameo.
Ad blocker interference detected!
Wikia is a free-to-use site that makes money from advertising. We have a modified experience for viewers using ad blockers

Wikia is not accessible if you've made further modifications. Remove the custom ad blocker rule(s) and the page will load as expected.