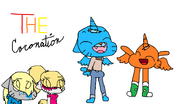 The Coronation is A 30 Minute Special episode of Gumball.
Synopsis
After some crazy fans play a prank on Gumball and Darwin, they think they are alicorn royalty.
Characters
Plot
TBA
Trivia
This episode is based on a comic made by lolhooplacatz. 
This episode is Tori's debut episode.
Quotes
Kani: "Do I look like I care?"
Tori: *Looks at Kani* "Well they look happy."

Ad blocker interference detected!
Wikia is a free-to-use site that makes money from advertising. We have a modified experience for viewers using ad blockers

Wikia is not accessible if you've made further modifications. Remove the custom ad blocker rule(s) and the page will load as expected.