The Broodwich
Gumball digs a hole and finds a Devilish Sandwich named The Broodwich
Characters
Jerry
Mr.Sticks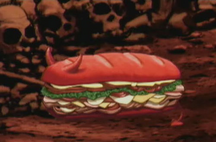 Minor Appearences
Plot
so, Gumball doesn't wanna clean up the house, Anais gives him a Map, which takes him to some Plants in the Front Yard, he digs and falls in a small trench, Anais gets some help, Gumball found a bunch of Skeletons and The Broodwich,Anais gets down the trench and explains Gumball The Broodwich, Gumball took a bite of it and gets into another Dimension which is inside The Sandwich...
Transcripts
TBA
Gallery
N/A
Trivia
This is the Second Episode that has a reference to an ATHF episode and Characters.
Ad blocker interference detected!
Wikia is a free-to-use site that makes money from advertising. We have a modified experience for viewers using ad blockers

Wikia is not accessible if you've made further modifications. Remove the custom ad blocker rule(s) and the page will load as expected.