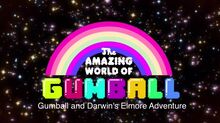 The Amazing World of Gumball: Gumball and Darwin's Elmore Adventure is the planned direct-to-video movie, starring Logan Grove and Kwesi Boakye as Gumball Watterson and Darwin Watterson, Adam Long as Mr. Small and John Cleese and Teresa Gallagher as The Legendary Hero of Elmore and The Sidekick of The Legendary Hero of Elmore.
Sypnosis
In this movie, Gumball Watterson (Logan Grove) and Darwin Watterson (Kwesi Boakye) were going on their Elmore adventure with the help of their new friends, The Legendary Hero of Elmore (John Cleese) and his sidekick, The Sidekick of The Legendary Hero of Elmore (Teresa Gallagher).
Plot
Coming Soon!
Episodes
Season 1
The DVD
The Laziest
The Debt
The Ape
The Refund
The Sock
The Mystery
The Poltergeist
The Car
The Gi
The Curse
The Mustache
The Wand
The Date
The Kiss
The Picnic
The Quest
The Painting
The End
The Fight
Season 2
The Remote
The Knights
The Bet
The Flakers
The Skull
The Flower
The Hero
The Pony
Christmas
Halloween
The Storm
The Photo
The Sweaters
The Tape
The Tag
The Castle
The Words
The Voice
The World
The Finale
Voices
Songs
Beginning of the Film
We're Going On Our Elmore Adventure
I'm the Legendary Hero of Elmore and I'm the Legendary Hero of Elmore
Season 1
Sugar Rush Song
Please Do It, Larry!
We Won!
I Wanna Be Free
Refund the World
Bad to the Bone
The Honesty Rap
Today's Gonna Be A Wonderful Day!
When Life Hands You Lemons
The Inner Warrior
No More Gi
Because We're Man
Danny Boy
Amazing Grace
Season 2
I Wanna Study with Your Daughter
My Little Ones
Don't Know Me
It's Christmas Eve
Christmas is Cancelled
The Power To Fight
Baby Anais
The Anailator
Baby
Lunch Song
What He Thinks About Us!
No More Mr. Nice Guy!
The Amazing World of Elmore
Rise of the Bacteria
The Amazing World of Elmore (reprise)
Ending of the Film
All's Well That Ends Well
Trivia
Note
Cultural References
Ad blocker interference detected!
Wikia is a free-to-use site that makes money from advertising. We have a modified experience for viewers using ad blockers

Wikia is not accessible if you've made further modifications. Remove the custom ad blocker rule(s) and the page will load as expected.