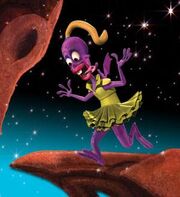 Princess Oom

Name

Princess OomLout

Age

13

Family

Emperor (Dad)
Empress (Mom)
BeeBaw (pet)

Friends

Grish

Voice

Candi Milo
Princess OomLout
or
Oom
(Age 13) is the princess of Zennu. She has two faces and loves Grish The Beautiful in "Amazing world of Gumball" and Sheen Estevez in spin-off "Planet Sheen".
Personality
She is 13 years old girl, who learns in Emperor's palace by gouverneur, which name is unknown. She has two faces. First have got small eyes, smile and nice and cunning manners, but second is more fanatic. It has got big eyes, buck teeth and mad manners. She wears yellow dress and has two toes on foot. Oom licks Grish every date . 
Trivia
Her name is backward pronunciation of word "Moo", what is noice of cow. Because cow has 4 stomaches and Oom has two faces.
Oom didn't chew food .
After she saw ugly new born Gumball in hospital, Oom has got second face.
Voice
Candi Milo-(US/UK) Rebeca Aponte(Spain/Mexico)
Ad blocker interference detected!
Wikia is a free-to-use site that makes money from advertising. We have a modified experience for viewers using ad blockers

Wikia is not accessible if you've made further modifications. Remove the custom ad blocker rule(s) and the page will load as expected.