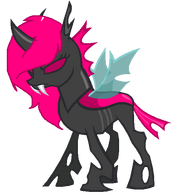 Lilly is a character from the  Gumball: Fanon Randomness series.
Personality
She is very aggresive and tends to use others for her own needs.
Forms She Has Turnned Into
Normal- gray and pink changeling
Deer- A light brown deer with white markings.
Gumball- In 'defense' of Gumball, she turns into him when Darwin is trying to find her.
Ad blocker interference detected!
Wikia is a free-to-use site that makes money from advertising. We have a modified experience for viewers using ad blockers

Wikia is not accessible if you've made further modifications. Remove the custom ad blocker rule(s) and the page will load as expected.