Gumball: Bigger,Longer & Uncut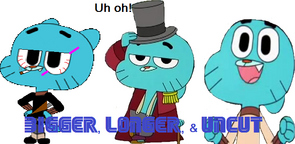 Gumball:Bigger,Longer & Uncut is one of the Gumball fanon movies in the Gumball Fanon Randomnes, it is an obvious parody of the South Park Movie; Bigger,Longer & Uncut
Plot
Spoiler warning!
This article contains plot details about an upcoming episode.
Gumball ask Nicole to give him $8 so he can see a R-rated toilet-humored Movie of Beavis and Butthead,he was ordered to take Anais because Nicole didn't knew it was R-rated and stuff,then he took Darwin,Banana Joe,Tobias and somehow Anton,they whent to the movie and learned bad stuff,then Gumball saw an unusual clone of himself wearing his date-clothes and Penny falls in love with it,Gumball gets jealous then while at class,they said bad words,they were sent to Mr.Small's office with their mothers and pretty soon,they started a war and soon Anton died,also Darwin was forced to put a V-Chip in his brain,then a ghost of Anton appeared in Gumball's room hunting Darwin also telling him about hell rising in the war,he and Gumball has to protect Beavis and Butthead or else,Gumball and Darwin gets help from another Gumball clone named The Mole but him and other people died,Hope Gumball can finally gets hell back from where it came from or else....
Characters
British Clone of Gumball
The Mole
Mr.Small
People of Elmore
Transcript
TBA
Gallery
N/A
Ad blocker interference detected!
Wikia is a free-to-use site that makes money from advertising. We have a modified experience for viewers using ad blockers

Wikia is not accessible if you've made further modifications. Remove the custom ad blocker rule(s) and the page will load as expected.