Doppy
Character Information
Gender:
Male
Also known as:
Dopptolamew Doppweiller XII (his full name)
Species:
Slug
Age:
11
Friends:
Anais, Darwin, Dorkus, Emperor, Gumball, Nicole, Penny, Richard and all, except Tina, Jamie, Oom and Grish
Relatives:
Mr. Doppweiller (father)
Mrs. Doppweiller (mother)
Occupation:
Student
Voice:
Rob Paulsen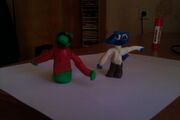 Dopptholamew "Doppy" Doppweiller is an inhabitant of Elmore, Zennu. He is one of Gumball's best school friends. He resembles us Carl Wheezer from "Jimmy Neutron Boy Genius". Like Carl, he is coward and is worry about something. Before Darwin learnt to walk and talk, Doppy was best friend of Gumball. He is crushed in Anais, like Carl is crushed in Jimmy Neutron's mom. He idolizes Dorkus and plays with Gumball and Darwin in video games. His parents get care of him very much keeping him from sharp, burning and dangerous items.
Personality
He is very nerdish, scary, clever and happy green slug. Doppy wears glasses with 4 lenses for 4 eyes and red sweater. But bottom 2 are bigger than top ones. He can wash himself without shampoo. He is happy, when he spends time with Gumball, Darwin and Dorkus. His manners are similar on Carl Wheezer's and Luigi's ones. He with Gumball and Darwin are helping each other.
Voice
Rob Paulsen (Us/UK)
Donald Reignoux(France, Quebec)
Sergio Pinto (Spain, Mexico)
Trivia
His name is diminutive form of "Doppelganger".
He is the best pupil in Gumball's class.
Like Carl from "Jimmy Neutron" he is voiced by Rob Paulsen.
In "Amazing World of Gumball" and "The Adventures of Jimmy Neutron" spin-off "Planet Sheen" he with Gumball and Darwin will become friend of Nesmith and Sheen.
He is wunderkind, like Anais. But his parents don't let him to invent something.
Ad blocker interference detected!
Wikia is a free-to-use site that makes money from advertising. We have a modified experience for viewers using ad blockers

Wikia is not accessible if you've made further modifications. Remove the custom ad blocker rule(s) and the page will load as expected.