Champions Or Coward

Elmore Television Broadcast Sport Game Show, A Xtreme Sport Crossing, Soccer + Martial Arts, more commonly known as Martial Football is a contestants played between two teams of four player. making it the world most xtreme sport of all time. the game is played on street or field with fighting and a goal would end. the object of the game is to score by getting the ball. allows both striking and grappling.
History
Yuki Yoshida, pro-martial arts, Nicole Watterson Friends playing soccer with other person in Stress. is isn't nice day?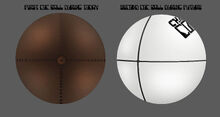 yuki yoshida striking other person, like "ow!" but. yuki yoshida think like it and she new idea.."hah! that my sport idea. well it gonna success!" a later. yuki creating 4 panel ball were made out of inflated leather, size of soccer ball. a next day. yuki introduction martial football. she teach 4 people to it. before there founder of champions of coward, and there air on Elmore Television Broadcast.
Ad blocker interference detected!
Wikia is a free-to-use site that makes money from advertising. We have a modified experience for viewers using ad blockers

Wikia is not accessible if you've made further modifications. Remove the custom ad blocker rule(s) and the page will load as expected.